Version 1.2 of Seasonality will include a new web export feature, so users can export data from Seasonality to a web page via templates. One thing I want to give users the option of doing is generating a full earth satellite image. This takes about 30 seconds to generate on my G5, so I expect that not everyone will want to enable it, but it's available. Here's one such image that I just generated a few minutes ago…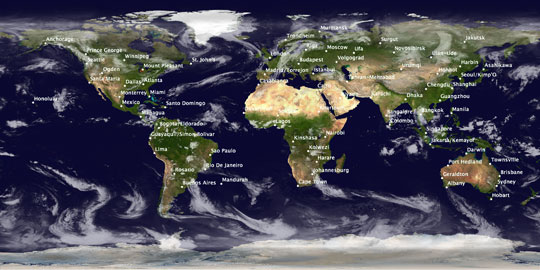 2005-11-05 5:20 am GMT, click to view full size.
To give you an idea, the full size image linked is still just 1/20th of the resolution available along each axis at 100% in Seasonality (1/400 of the total res). Ever since getting into collecting this weather and terrain data, I'm just totally amazed by it. In fact, a few weeks ago I just downloaded the second set of terrain imagery put out by the Blue Marble project, all 24Gb of it. It's a set of 12 (1 for each month of the year) images, each with a res of 86400×43200 pixels. I'm not sure what I'll do with it yet, but look for some kind of application of this imagery in a future version of Seasonality.