In case you haven't heard, Hurricane Wilma is brewing out off the coast of the Yucatan Peninsula right now. Wilma is the strongest hurricane ever measured in the Atlantic ocean, when a hurricane hunter aircraft measured a central air pressure of just 882mb a few days ago, 6 millibars lower than the previous record. The hurricane has "weakened" since then and has now settled down to a Category 4 hurricane with 150 mph winds, but that's still pretty strong. It's heading directly towards Cozumel and Cancun at the moment. I would hate to see that area destroyed…Katrina and I went on a cruise that stopped at Cozumel for our honeymoon. It was a great little town and we had a lot of fun both there and in Playa del Carmen.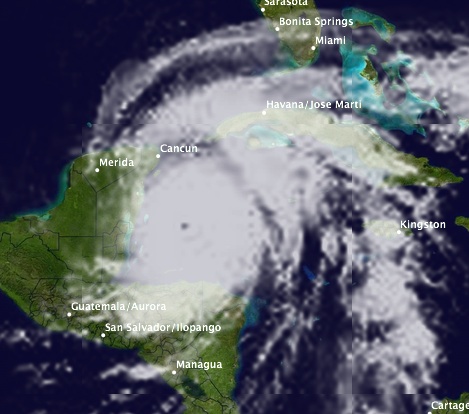 Hurricane Wilma, October 20 6pm EDT
Meteorologists really aren't sure where it's gonna go from here, but it looks like it will sweep across Florida before heading North off the east coast…
So what's next? Well, after getting to the letter W for yearly storm names, Greek letters are used. The next storm will be alpha, beta, etc… It's rare to get this far in the alphabet, and there are still several weeks left of hurricane season. This year is definitely one for the record books.